As the world emerges from the pandemic, economies are adopting new strategies to safeguard sustainability. Governments are implementing ESG policies, and businesses are changing their business models to create sustainable value. As today's business environment evolves, Business Valuation professionals need to determine how ESG factors can be measured as intangible assets, and how to create other forms of intangible assets to impact enterprise value.

Asia Pacific's leading Business Valuation conference, the IVAS-IVSC Business Valuation Conference 2022, is themed, 'Navigating New Frontiers to Create Sustainable Value'. Join other thought leaders, policy makers, business leaders, legal professionals and Business Valuation professionals on this regional platform for insights on creating value against the backdrop of the pandemic and recent geo-political developments.

The conference is organised by the Institute of Valuers and Appraisers, Singapore (IVAS) in partnership with the International Valuation Standards Council (IVSC), and it is in its 6th edition this year.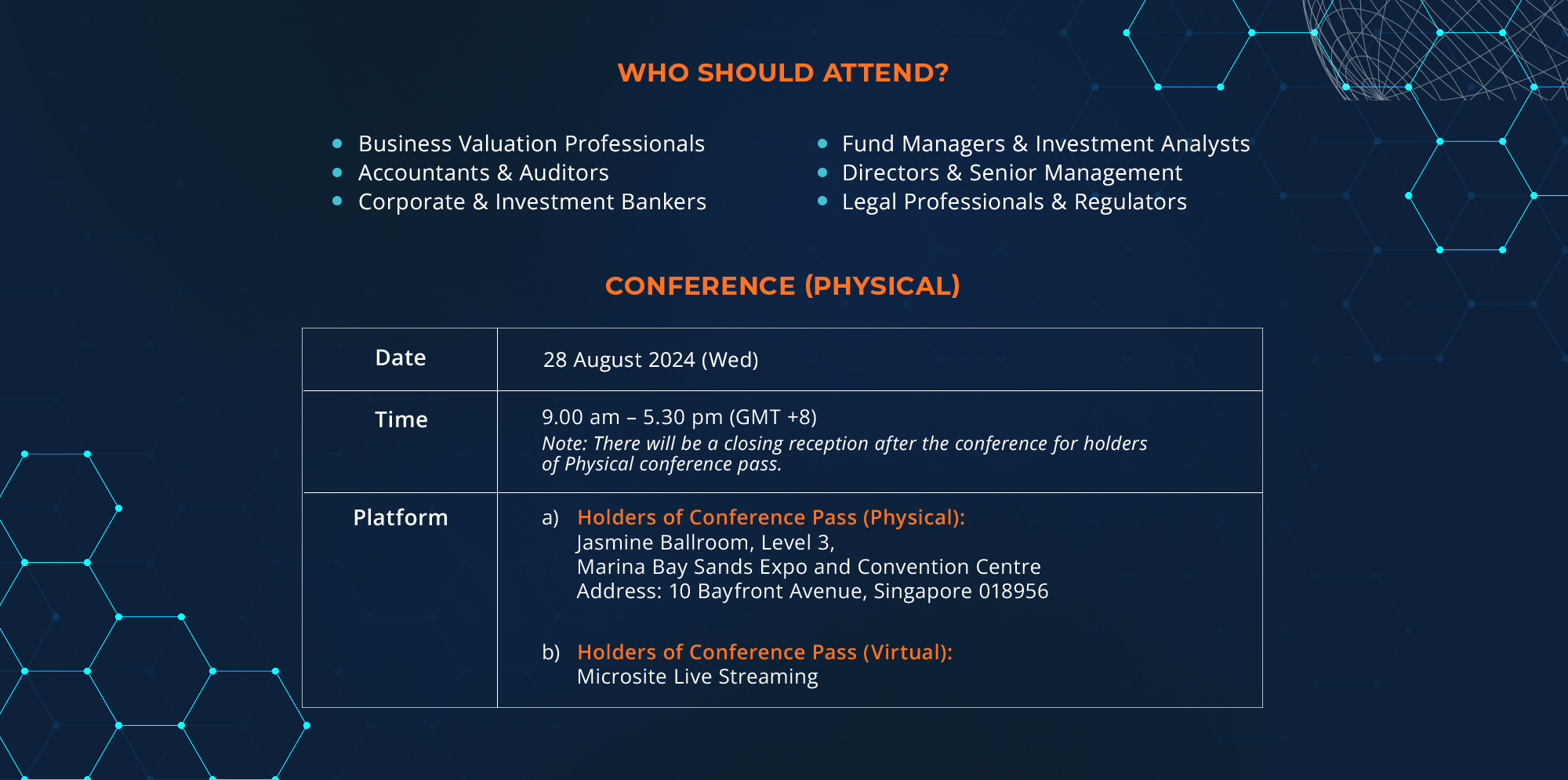 ABOUT THE ORGANISERS
INSTITUTE OF VALUERS AND APPRAISERS, SINGAPORE (IVAS)
Established under the umbrella of the Singapore Accountancy Commission, the Institute of Valuers and Appraisers, Singapore (IVAS) seeks to foster professional excellence in the areas of Business Valuation and develop Singapore into a Centre of Excellence for Business Valuation through:
Promotion of professional valuation standards;
Setting of ethical and professional standards of practice;
Contributions in thought leadership, research and development;
Provision of quality education and training curriculum; and
Promotion of professional qualification and certification in Business Valuation
Through these initiatives, IVAS will seek to broaden the talent pool, deepen the expertise of Business Valuation professionals, uphold the public trust in the role they perform and enhance the reputation of the Business Valuation profession in the region.
For more information, please visit
https://www.sac.gov.sg/ivas
.
---
INTERNATIONAL VALUATION STANDARDS COUNCIL (IVSC)
The International Valuation Standards Council (IVSC) is the UN recognised, independent and not-for-profit organisation that produces and implements universally accepted standards for the valuation of assets across the world. The IVSC consists of representatives from a wide range of sectors, including professional valuation institutes, valuation providers, standard setters, regulators and academia. The organisation's mission is to establish and maintain effective, high-quality international valuation and professional standards, and to contribute to the development of the global valuation profession, thereby serving the global public interest.
For more information, please visit
www.ivsc.org
.